Andronicas Milk Jug Rinser with Tap
Rinsing steaming pitchers between each use are not only a sanitary preparation practice but is also beneficial to the proper production of quality textured milk. The Pitcher Rinser can be configured into virtually any application. Rectangle in shape, with built-in water and drain connections. Sits on top of the counter and plumbed for drainage. Adaptable to most any espresso bar. Comes with easy to follow installation instructions.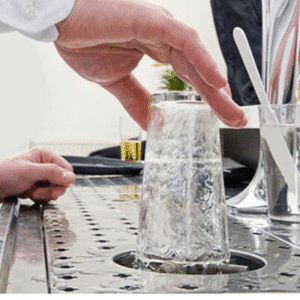 SIMPLE & TIME SAVING: Simply press your pitcher or cup against the star-shaped base to engage the nozzle. The cup washer can quickly rinse off the residual milk inside the milk cup, saving time.

√ EASY TO CLEAN: Clean and sanitary, hands do not directly touch the inside of the cup.

 WIDE APPLICATION: Suitable for hotel, coffee shop, and home to use practical cup washer.