Cino Professional Coffee Capsule Machine
It's perfect for Offices, Hairdressers, B& B, Lawyer Firms, Car dealers.. for all businesses who want to welcome their visitors or customers and make them feel valued and appreciated by offering a great cup of coffee
Free Product Assembly and Training : A member of our team would like to personally visit you to do complete assembling procedure of the machine followed by free training of its easy operation. 
. 
1.2L separate steam boiler , 2600-3000W , 220-240V , D48cm – W54cm – H43cm

Digital display with the touch-button operation, Adjustable automatic standby after 30 mins, Machine lockout after 2000 extractions ready for descaling

Individually operated double brew head, steam wand and hot water wand, Freestanding, portable, mains plugged machine

2.7L tank capacity, 2 x 2-litre removable drip trays with drainage valves, 20 bar pump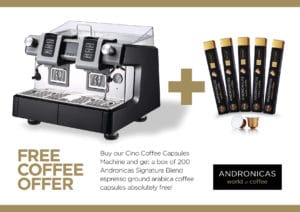 Want to make your clients a decent cup of coffee, but don't want to be in the coffee business? This espresso machine uses capsules, so it's clean, simple, consistent and cost-effective... Everybody understands how Nespresso works. Our small commercial machine works in just the same way and allows you to produce cup after cup easily without being a barista. It's perfect for offices, hairdressers, car dealers.. for all businesses who want to welcome their visitors or customers and make them feel valued and appreciated by offering a great cup of coffee. They, your customers, feel looked after, you don't have to deal with messy coffee grouts... The fresh, superior Andronicas Coffee, is sealed into each capsule. The espresso machine extracts the flavour and disposes of the used capsule. Portion control, a clean coffee station, professional looking machine and great taste are guaranteed, along with the appreciation you have made an effort, not just dipped a spoon into a jar!